Fr. Francis Vaughan has been our parish priest from the very beginning. We are fortunate to have been able to share in the Fr. Vaughan's Golden Jubilee of Priesthood. Below just find some information about the celebrations.
---
An open meeting of parishioners was held on Wednesday, 27 August after the evening Mass, to discuss what should be done to celebrate the 50th anniversary of Father Vaughan's ordination, which occurs on 29 November, 1997. In consultation with Father Vaughan, it was firstly decided to have a special
MASS
on
MONDAY, 20 OCTOBER, 1997 at 7:30pm in our Church
It is hoped that Bishop David Walker will be able to concelebrate the Mass along with some of Father Vaughan's classmates.

The Mass will be followed by
SUPPER
in the Meeting Room and refreshments will be supplied.
After Father Vaughan returns from holidays, it is proposed to hold a
DINNER DANCE
on
SATURDAY, 6 DECEMBER, 1997 at LORETO COLLEGE
The following Committees have been established to make the various arrangements
MASS COMMITTEE

Convenor
Pat Kirkwood - 9489-2783
Joe Pulis - 9489-2668
Larry Czarnik - 9481-8076
Des Kelly - 9481-9665
Col Thompson - 94845508

SUPPER COMMITTEE

Convenor
Bernie & Mary Richards - 9481-0086
Brian Kennedy - 94841883
Phil Shirley - 9875-1640
Carmel & Ken Daniels - 94873511

FUND COMMITTEE

Convenor
John Bolster - 9876-3520
Pat Goddard - 94896900
Keith Clegg - 94847108
Phil Kirk - 94847108
Damer Walsh - 94845275

DINNER DANCE COMMITTEE

Convenor
Brian Roach - 94843672
Pat Arnett - 9487-6558
Ken Ryan - 94844507
Carmel Daniels - 94833511
The following pictures appeared on the commemorative mass booklet made available to all who attended the Concelebrated Mass.
| | |
| --- | --- |
| 1947 | 1997 |
---
Not part of the celebration documentation, but published in 10 March 2002, Vol 61 No. 4104 (and courtesy of) The Catholic Weekly (pg 19) is -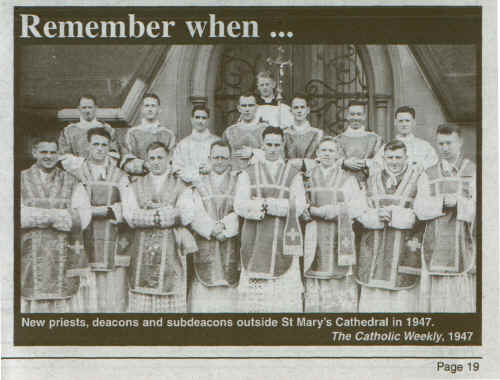 Fr Vaughan is second from the left in the front row. Compare with his photo above from 1947.
Click on the "Remember when ..." picture for a larger image.
Page created - 18 September, 1998
Page last updated - 29 March, 2002 10:56:58 +1000