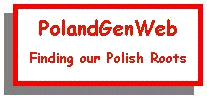 Click logo above to go to PolandGenWeb

There are thousands of links to various aspects of Poland and the study of genealogy stemming from Poland. Below find some that may be of assistance. While we haven't reviewed all of them, we have used some of them or they have either been brought to our attention. To submit a link, use our Feedback page.
We'll try and categorise them, but as you can imagine some sites will overlap or just not fit neatly into the category. Also please note that we do not take any responsibility for content of any site we link to below.
Are categories are (and you can jump to them by clicking on name) -
(All links will create a new window so you can return to us easily)
Affiliate Sites

Podkarpackie Province specifically
Family Trees that have parts in the Podkarpackie Province
Poland - General Geography & Genealogy

Czarnik SRC - Poland - includes links to maps, culture and history as well as translation & general genealogy links.
Cyndi's List of Genealogy Sites on the Internet - Poland / Polska - A resource of hundreds of links in over 15 categories.
Catholic Dioceses in Poland - Listing of all diocese with formal address, e-mail and web sites where available.
Poland Border Surnames - A site devoted to those researching genealogy in the former historical borders of Poland including Estonia, Latvia, Lithuania, Belarus, Ukraine, Moldova, Slovakia, Czech Republic, Moravia, Hungary, Russia, the Balkans, and East Prussia.
History of Polish Surnames - The 10-volume, 6000+ page "Slownik Nazwisk" (History of Polish Surnames) by Rymut is now online! It's in Polish, but if you use the InterTran translation site (mentioned on Czarnik SRC - Poland), you get a pretty good translation into English (or most other languages).

One hint, if you need to use a diacritic on a letter in spelling a surname to look up and can't, use an * or ? symbol instead. The "Szukaj" button means "search".
.

Address and Phone Directories

A Question of Honor

While a book, rather than the traditional web site resource, we understand it to be historically accurate and maybe of some value. The link takes you to Amazon.com where you can purchase after reading more. Briefly ...

After the Nazis invaded their country in 1939, a group of Polish fighter pilots made their way to England to fight the Germans. They recorded one of the best records against the Luftwaffe and made a major contribution to winning World War II. Authors Lynne Olson and Stanley Cloud tell this overlooked story in their book – "A Question of Honor." (Knopf).

Polish Resources being sought

Polish / English / Polish dictionary being sought for Palm (Handheld)

We

[at Qvadis]

anticipate that we will have one very soon, within 1-2 months. The release will be noted first in our once-a-month Express Review newsletter, You'll get a notice once the module you're interested in is released. If you don't see it within the timeframe, please feel free to contact us again. We are logging every request, so that we work on the ones that will have a greater audience first.

Best regards,

Team Qvadis

(will start e-mail with subject set to ask about Polish dictionary)

Status:

| | |
| --- | --- |
| | Polish dictionaries are still in preparation. Team Qvadis dated 11 Aug, 2002 |

Please e-mail Team Qvadis (click on name - it will start e-mail with subject set to ask about Polish dictionary). The more requests, the sooner it will happen.
.

Affiliate Sites

ProGenealogists

| | |
| --- | --- |
| | We have found this group of professional genealogical researchers helpful, particularly Natalie Cottrill. And while we must formally say "Tovegin, PolandGenWeb and WorldGenWeb does not support or endorse ProGenealogists", we are sure you will find them helpful with a variety of services, not least of which is travelling to international destinations, including Poland for direct research! |

This page created: 8 June, 2002. Last updated: 04 September, 2007 11:17:02 +1000