Scarborough High School Demolished
to make way for homes !?!
You have to ask yourself, why do you demolish a high school that faithfully serves the surrounding homes, to make way for more homes ? Where do the students go ? To distant schools of course !
The fight for the land continues although the demolition of the school is complete and we are mourning the loss of our heritage and a perfectly structurally sound school and community facility. The hall and the pool and the tennis courts went too - such a waste. The contractor has stated that there was no time to recycle material because the Education Department wanted the job done in a hurry - 80% of the building went to land fill - it is a scandal - this aspect is being pursued by the Greens.
Here is an update from Robyn Murphy, action group co-ordinator.
The two documents have been prepared that contain most of our ideas.
The school site is still vacant and we have successfully held up the sale. We are still working hard to keep the land and have applied for a Centenary of Federation Grant to call it "Scarborough High Centennial Park". Please contact us if you think this is a great idea !
Western Australia elections have given us new life ! See
Thanks very much for your ongoing support.
Regards,
Robyn Murphy
Here is a picture of Colleen Higgins-Czarnik (nee Wade), a Scarborough High School past student reminiscing at the west wall above the playing field. Note the rubble of the school behind her.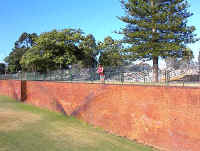 So to date, the following are available -
We'll bring you more info as it comes to hand.


Page created - 26 February, 2000. Page last updated - 14 August, 2006 15:08:53 +1000